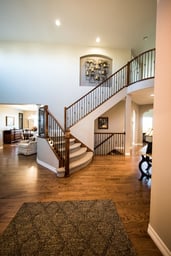 As a home buyer, have you ever toured a house and wondered what, precisely, the home sellers are trying to hide from you? As Washington DC real estate agents, we here at Glass House Real Estate have heard it all and witnessed most of it.
From minor nuisances to significant flaws, here are nine things that homeowners try to cover up.
What Homeowners Will Try to Cover Up When Selling
#1 – Sour odors
Homeowners are embarrassed by some of the foul odors in their home. They try to hide odors from cigarette smoke to diaper pails by creative measures. Baking cookies, burning candles, and diffusing essential oils mask the smell temporarily. However, it usually just results in a funky blend of sweet and sour.
This tactic means that buyers may question the actual source of the smell, as some smells—mold, mildew, or rot—indicate problems with the house.
#2 – Pet stains
Going hand in hand with the funky smells are pet stains. Homeowners attempt to remove the stains, at least initially. When that doesn't work, they will toss down an area rug or move around the furniture in an attempt to conceal the telltale dark ring.
This casts doubts in buyers' minds—if they are covering up something as relatively easy to fix as a pet stain, what else are they hiding?
#3 – Cracks in the walls or ceilings
Sellers often chalk up cracks in the walls or ceilings to the house settling and will use drywall compound, a spackling knife, and fresh paint to conceal these marks. The problem with this is that cracks can be minor, but they can also be a sign of serious issues such as the foundation shifting.
#4 – Water damage or mildew
If you notice the ceilings recently painted, especially in a bathroom or laundry room, it's possible that the seller is covering up recently completed water damage repair work or rings where they had mold or mildew removed.
This is a deliberate cover-up of something that should be in the disclosure documents. That's not to say that the seller didn't disclose it…they are just hoping you won't notice it.
#5 – A noisy street
Have you ever walked into tour a house and the seller left on the tv or had music playing? That seller realizes that most buyers will be polite and not turn it off. The problem is, the sellers could be trying to distract you from noise outside of the home.
The source of this noise could be an airport, a large family with ten children screaming on a trampoline next door, or street noise. While these are completely out of the seller's control, it could turn out to be a nuisance for the future homeowner, as well.
#6 – An unattractive view
As you look around the exterior of the property, do you see hedges and tall privacy fences? The sellers might have installed these treatments not to trick sellers but to block out an unattractive view. Before you leave the premises, make it your business to ascertain precisely what is on the other side.
#7 – Rotting exterior wood
While you're scoping out the home's exterior, take a look at any freshly painted trim work, window moldings, doors, and decks.
Two or three coats of exterior paint slapped up there hides damages resulting from rotten or cracked wood and insect damage. While it's possible that they just painted to boost their curb appeal, give the paint job a meticulous look.
#8 – Exterior water damage
Just as paint can cover up past water damage on the inside, sellers can find crafty ways to cover up exterior water damage. They plant shrubs or tall ornamental grasses in front of severe stains or install a breathtaking outdoor feature to dazzle the buyers, so they don't look as carefully. It's a carefully orchestrated game of sleight of hand.
Even if the seller has remediated the problem that caused the damage, they should have this damage disclosed in the document.
#9 – Their nanny cams
This bullet point is half funny and half creepy. The final thing that sellers hide is the fact that they have wired their home with wi-fi cameras and have nanny cams and microphones turned on while you browse. So, even as you are checking out their home, they are checking you out.
Protect yourself from cover-ups
If you suspect that a home you've toured has been cleverly altered to misdirect you, well…you might be right. Don't mention anything about it while you're inside the home (nanny cams, creepy am I right?). Once you've left the premises, discuss it with your realtor.
Should you love the house and want to extend an offer anyways, write a home inspection into the contingencies and ask your realtor to alert the inspector to your gut feeling.