Experts say that you should always keep an ear out for your health and finances. Ignoring either of them isn't prudent as both are important for our overall well being. To make sure we stay on top of every situation, we take the benefit from different insurance policies. These policies provide us with the necessary coverup in case of a mishap.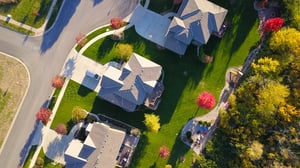 Homeowners insurance lies in the middle ground between health and financial protection. It not only safeguards the roof over our heads but also takes care of our financial position. To make the most of it, you need to make sure that it covers the frequent perils of your region.
It is observed that most homeowners can't decide between the type of policy to choose. So, without any further ado, let's see the different types of homeowner's insurance policies. They will help you paint a picture of the various plans available for you.
Explained: Home Owners Insurance Policies
HO-1
HO-1 is the most basic type of homeowner's insurance policy. Most insurance providers no longer offer this policy because it has severely limited coverage. Homeowners don't consider it as sufficient coverage because it doesn't include liability or personal property coverage. The plan consists of the following perils:
| | |
| --- | --- |
| Civil commotion and riots. | |
| | |
| | |
| | |
We can see that this type only covers the structural aspects of the home. Most homeowners look for suitable policies.
HO-2
The HO-2 is a slightly broader policy, and it is a step-up from the HO-1. However, this policy is limited in terms of the named perils. The areas that HO-2 covers are narrowly defined. Meaning if the risk isn't precisely similar to the one that represents, you won't receive any protection. Some coverage items that are part of this policy are:


| | |
| --- | --- |
| | Accidental overflow or discharge of water or steam. |
| | Freezing of systems, e.g., (HVAC) |
| Sudden and accidental tearing apart. Cracking, burning, or bulging of pipes and household systems. | Sudden and accidental damage from electrical current. |
The HO-2 is also referred to as 'Broad Form.' Here, it needs to be understood that this policy might include some coverage for personal liability.
HO-3
This particular form targets price and coverage. It is the most common type of homeowner's insurance that is famous among people. The next time you hear someone talking about the basic homeowner's insurance, remember that it is HO-3. The best thing about this policy is that it ditches the name perils and replaces them with open perils.
The six areas covered are:
| | |
| --- | --- |
| | |
| | |
| | Medical payments to others. |
All the structures and belongings are typically part of this policy. However, it doesn't offer protection against floods and earthquakes.
HOB
The HOB policy combines both HO-2 and HO-3. It covers all of the structural perils as well as the contents of a home. What distinguishes a HOB with other policies is that it offers protection against water damage.
HO-5
The comprehensive HO-5 policy is an upgrade to HO-3. It makes up for everything that is excluded in the HO-3 for personal possession and dwelling coverage. A unique thing about this insurance policy is that it offers replacement cash value instead of the value in cash. The payout for an HO-5 will be equal to the full replacement cost.
Some of the inclusions are an earthquake, water damage, war, government action, and nuclear hazard, law, and floods, to name a few.
HO-7
The HO-7 is similar to the HO-3 policy, with the main difference of applying to mobile or manufactured homes. It protects prefabricated homes and fifth wheelers. This insurance doesn't typically consider you as someone living in the dwelling full-time. Therefore, as a homeowner, you can customize the entire process and secure coverage for primary, secondary, or seasonal residence.
HO-8
When it comes to insurance policies, most of them are based around HO-3. The particular HO-8 is also similar to the broad policy, with the only difference that it is more concerned with older homes. Homeowners who own historic homes go with this policy.
Coverage Types
Typically, homeowner insurance policies can include the following areas:
Dwelling Coverage – When it comes to protecting the basic structure of your home, homeowners seek dwelling coverage. It includes floors, walls, roofs, and the attached structures of a home. Built-In appliances are also part of this coverage.
Contents Coverage – The contents coverage is about your possessions. It covers damaged décor, clothing, devices, jewelry, and furniture. Most of the time, these items are covered using Actual Cash Value. But more homeowners go down the Replacement Cost route to increase protection.
Personal Liability – The personal liability offers generous coverage for perils that revolve around personal liabilities and medical payments to others. It also provides compensation for lawsuits.
Homeowners Insurance Wrap-up
The type of coverage you are looking for depends on your requirements. One thing you need to keep in mind while shopping for a homeowner's insurance is your location. If you live in an area where natural catastrophes occur frequently, be sure to specifically ask for coverage in such an event.
Working with a local insurance agent who knows the ins and outs of your community is always the best option.
Khalil El-Ghoul
"Thanks for reading! I'm passionate about empowering home buyers and sellers with professional advice and unbiased information, throughout the real estate transaction. Unlike most agents, I always put clients first. When it comes to negotiating, marketing homes, and sealing the deal, I've got the experience and knowledge you're looking for. If you have any questions about moving to VA, D.C., or MD, don't hesitate to reach out."