COVID-19 has changed real estate in many ways. Here's what buyers should be looking for when house hunting in 2020.
Over the past few months as you have spent the majority of time almost exclusively at home you have had plenty of time to observe your four walls and decide if your current home's space will work for you and the world's new normal. Many of us are now working from home which requires a dedicated space for each money-maker in the house. Students most likely will be attending school part-time or entirely online. Those of us from Generation X are facing a time where our parents may need additional help and many Xennials aren't comfortable with nursing homes due to the pandemic. Our world has turned a 180 in just a very few months and spending the majority of time at home among our loved ones indicates our home needs are changing.
As kitchen tables become workspaces, bedrooms become school classrooms, and our walls become self-isolating from the members of our home, we are realizing our home is now our sanctuary and must reflect our needs. Homes of the future require outdoor spaces where children can play, parents can have that important alone time, and quality family time can be spent.
Find Your Sanctuary in McLean's Salon Village Community
Located at 1455 Waggaman Circle in the highly desirable community of Salon Village in McClean, Virginia just 20 minutes outside of Washington DC is the ideal home for families adjusting to our changing needs. The 5 bedroom, 7 bath home, listed at $1,799,900, is just a short distance to downtown McClean where dozens of shops and restaurants can be found. In addition, McClean has family-friendly outdoor adventures such as Scott's Run Nature Preserve, Clemyjontri Park, and Turkey Run Park nearby.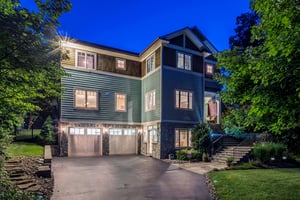 What The Future Looks like For Home Design & Architecture
Large Lot Size
Homebuyers are realizing their future homes will require larger lot sizes. A lot of times this could mean moving out of the city and into the suburbs. During this pandemic, a home that sits on a larger lot with luxurious landscaping and high trees is a safe, peaceful place to shelter.
1455 Waggaman Circle sits on an oversized ⅓ acre lot surrounded by green, mature trees and landscaping. The well-crafted home is built on an elevated lot with a large, flat backyard. The home features over 6500 square feet of living space spread throughout three spacious levels, perfect for sheltering in place, in peace.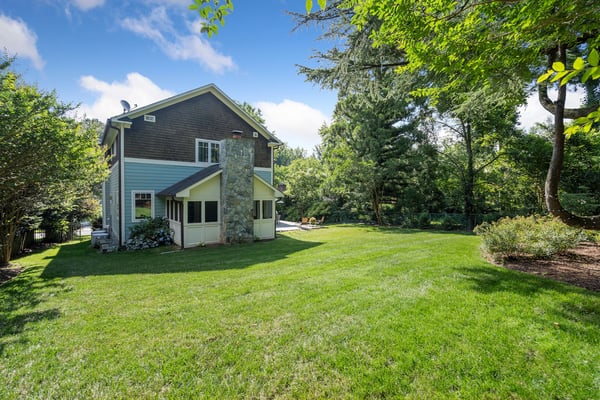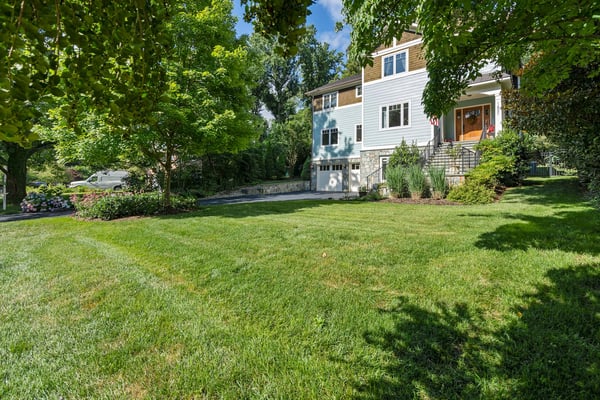 Home Offices
Working from home is looking to be our new norm. In the past few months, kitchen tables and sofas have provided workstations for parents and children alike. Having sufficient workspace is at the top of many buyers lists right now.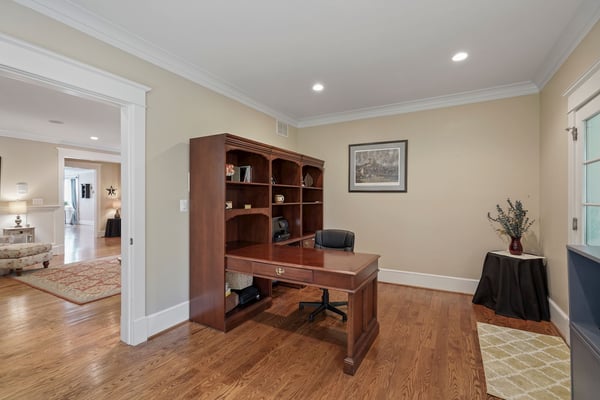 A home that offers 2 main-level home offices both opening to a large porch, for additional natural light and a spacious feel is ideal for this time. Waggaman Circle even features a wood-burning fireplace for those chilly Virginia days and nights. Take your laptop outside and sit next to the fireplace while you work outside your home office.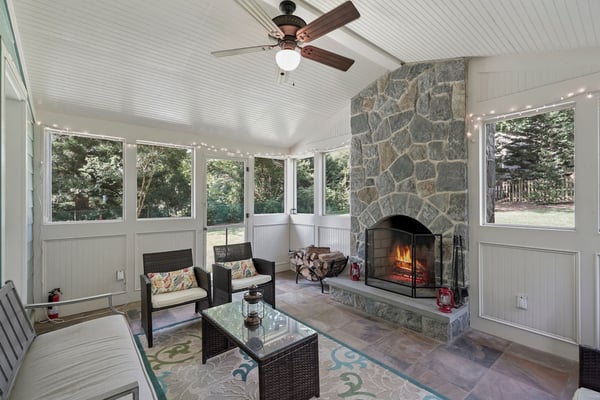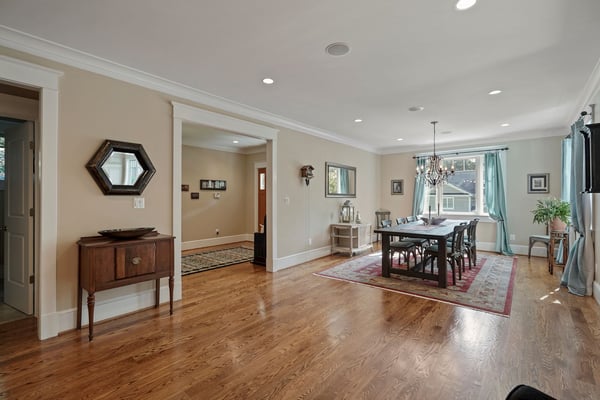 Multigenerational Homes
Multigenerational homes have become more common the past few years and with COVID-19 the trend has become increasingly popular. Having additional family members stay in your home is a great benefit of owning a larger home with many rooms.
1455 Waggaman Circle is perfect for families with au pairs or those with grandparents at home as it provides an in-law/au-pair suite with a separate entrance and a full bath located on the lower level. All four bedrooms on the upper level include ensuite bathrooms and walk-in closets. The master suite boasts both his and her walk-in closet, high-end fixtures, and a steam shower.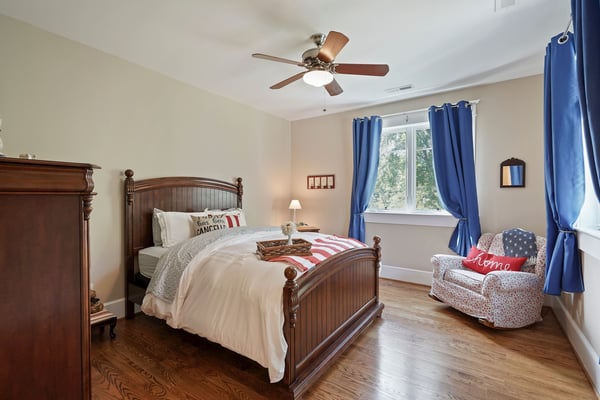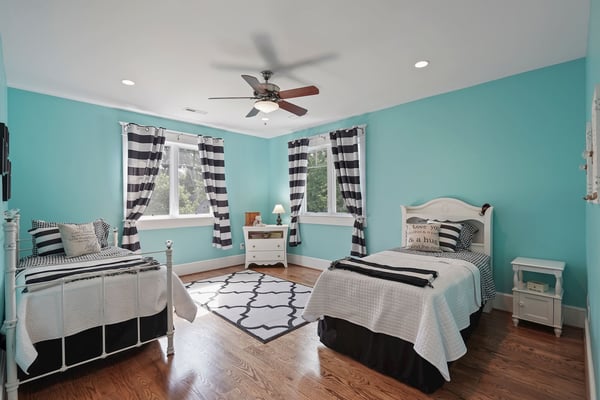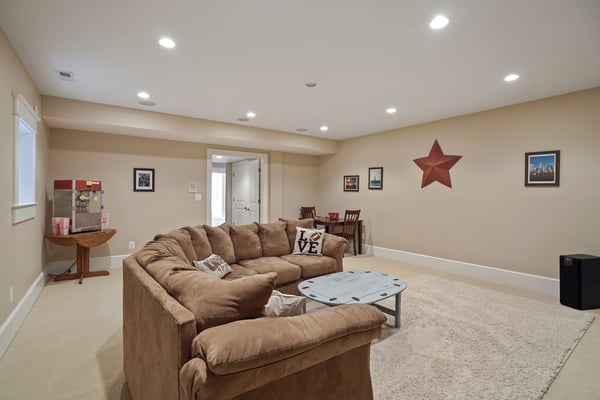 Less Open Floor Plans
Some home buyers prefer the open concept plan, however, a design with more options for self-isolation and quiet time can be ideal during these times as well. Buyers want a home where the family can comfortably separate from other members of the family for both work and leisure.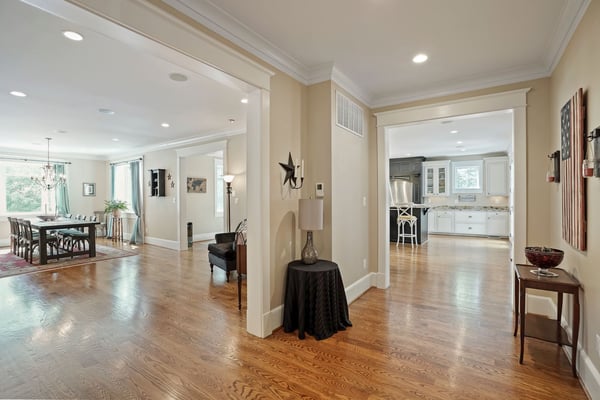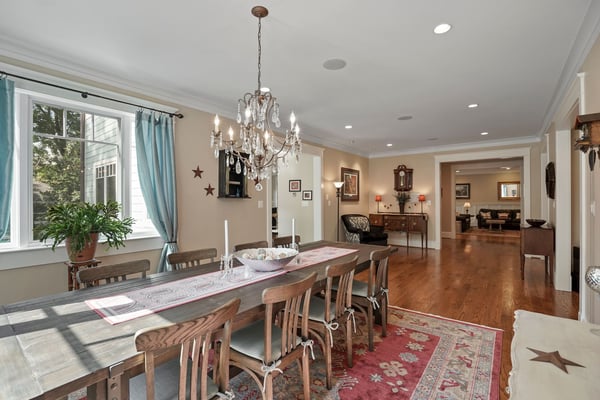 This picturesque home provides ample individual space for the entire family. The modern floor plan is both open and distinct. With room for privacy as well as entertaining, this floor plan has the flexibility a family needs during all times.
Better Kitchen Space
More time at home means more time in the kitchen! In fact, cooking is topping the list of activities people are engaging in due to social distancing. As many restaurants close their doors many Americans are taking up cooking and baking.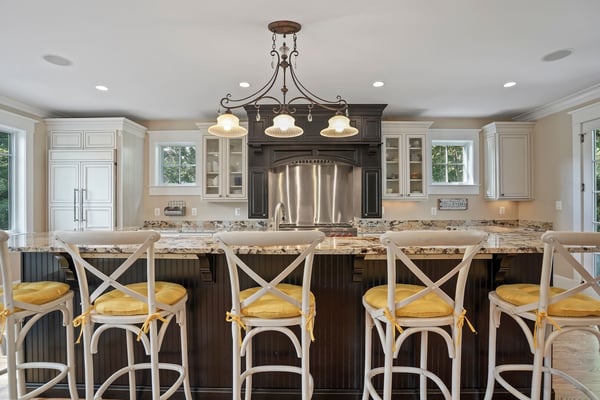 Waggaman Circle has an incredible kitchen spanning the length of the home and bringing in the morning sunlight at breakfast. Enjoy the memorizing sunset during all meals of the day. The sizable kitchen features commercial grade appliances including a 60-inch Wolf Range oven, a large central island, and a generous walk-in pantry.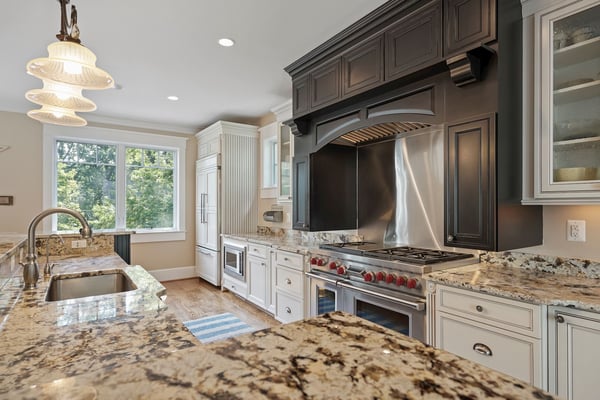 Everything You Need At Home
Gyms closing their doors has created a twist on exercising and most of our work-out routines have transformed. Homes that include space for a gym have become exceedingly popular in the last few months. Included in this all-in-one home is a bonus basement recreation room that can easily be converted into a home gym. Additionally, the home provides an irrigation system, advanced zoned HVAC damper systems for each bedroom, three fireplaces, and a built-in speaker system that is perfect for entertaining and family time.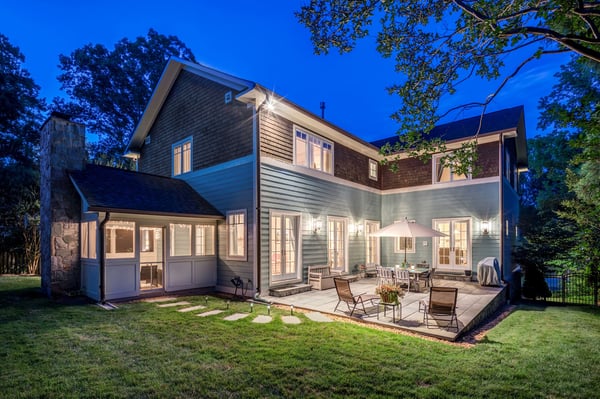 Located in a peaceful suburb of Washington DC, 1455 Waggaman Circle supplies everything a family needs and more throughout our evolving times. Work peacefully in your private office, spend plenty of time outdoors, and have sufficient individual space for every member of the family.
Khalil El-Ghoul
"Thanks for reading! I'm passionate about empowering home buyers and sellers with professional advice and unbiased information, throughout the real estate transaction. Unlike most agents, I always put clients first. When it comes to negotiating, marketing homes, and sealing the deal, I've got the experience and knowledge you're looking for. If you have any questions about moving to VA, D.C., or MD, don't hesitate to reach out."