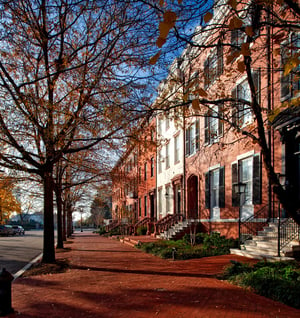 This analysis of the Washington DC housing market is based on information obtained by Bright MLS multiple listing data by MarketStats by Showing Time and breaks down and informs the reader of January 2020ś median sales prices and trends for single-family detached homes, townhomes, and condominiums. It will also offer comparisons to where the market was at this time last year across the board and for all three housing-segments individually.
Overview of january 2020's washington dc real estate market
January 2020's median sales price for all homes in DC was $550,000 which is up 2.3% from January 2019 when the median sales price was $537,500. January 2020 is recorded as the highest January sales prices in the last decade. In January 2011 the median price of a home in Washington DC was a mere $378,000. That is almost a $200,000 increase in 10 short years.
The January 2020 sales had a 10.7% increase from January 2019. There was a 17.7% percent increase in contract activity compared to this time last year. With the average sales price at a record high, the supply of property is limited with only 1.7 months of supply on hand. Months of supply on hand is the measure of how many months it would take for the current inventory of properties on the market to sell, taking into account the current pace of home sales. For example, if there were 100 homes on the market and 20 homes selling each month, there would be a 5 month supply of homes for sale. Four to five months of supply is average. A lower number than 4 indicates buyers are dominating the market, making it a seller's market. A higher number means there are more sellers than buyers, creating a buyer's market. In essence, this housing crisis DC is facing creates supply and demand.
This supply and demand is the culprit when it comes to a nearly $200,000 increase in median home closing sales. Half of the homes sold this January were only on the market for 32 days or less.
Washington DC Real Estate Market Trends
Closed Sales
There were 568 closed sales in January 2020, representing a 10.7% hike in the last calendar year and an 8.3% increase in the five-year January average which was 525 closed sales. More sales are closing and they are closing quickly for more profit, making this a sellerś market.
Listing Activity
Since January 2019 there has been a whopping 20.1% increase in listing activity. This is equal to 1,075 new listings. The five-year January average was only 883 listings.
Sales Price to Original List Price Ratios (SP to OLP)
The evidence shows that half the sellers in January 2020 received at least 98.7% of the original list price.
Single-Family Detached
January 2020 single-family detached home sales increased by 13.9% over January of 2019. Listing activity increased by 5% from January 2019 to January 2020. The average days-on-market for single-family homes was 51 days, much slower than the 42 days-on-market January of 2019 experienced. The average price per square foot has seen a 5% increase throughout the year from $363 per square foot in January of 2019 to $381 per square foot in January of 2020. As the DC area has experienced an influx of new residents itś not surprising that the median sales price for single-family homes has increased 4.8% over the year from $768,000 to $805,000. This trend shows no signs of slowing down.
Townhomes
January 2020 experienced an 8.2% increase from last yearś new listings from 319 new listings in January 2019 to 345 January of 2020. The average days-on-market sold this January was 34 days which is 2 days longer than in January 2019. The average price per square foot for DC townhomes has depreciated by 6.2% dropping from $421 per square foot to just $395 last month. Prices on townhomes are also showing a decline in the sales price of over $100,000. In January of 2019, the median sales price for a DC townhome was $774,500. This January the average price dropped to $610,000.
Condominiums
The largest increase in purchase activity was in the condominium segment of homes. With 391 new pending sales, January of 2020 marked a 33% increase compared to the 294 contracts from January of 2019. Along with that increase, closed sales this January at 265 were 4.7% higher than the 253 from this time last year and 6.4% higher than the five-year January average of 249. New listings increased as well with 582 new listings added in January of 2020 making this a 34.4% climb from last year. The average days-on-market for condos sold in January of this year was 38 days, 6 days faster than last year. Half of the units sold were only on the market for 33 days or less. Another increase for condominiums was the average price per square foot showing a 1.6% rise from $553 to $562. The $480,000 average sales price for condos represents an 11.2% increase from January 2019ś $431,500 and a 7.4% increase over the five-year average of $446,800. The average sales price this January coming in at $570,997 shows a 15.8% increase from last Januaryś average of $492,993.
In Summary
The Washington DC market shows no signs of slowing down. With a population growth that ranks 10th for metropolitan population growth, according to the US Census Bureau, and coming in as the 6th most populated metro area, DC is experiencing a supply and demand housing situation. With median sale prices increasing and inventory levels low, Washington DC is currently a seller's market.
Khalil El-Ghoul
"Thanks for reading! I'm passionate about empowering home buyers and sellers with professional advice and unbiased information, throughout the real estate transaction. Unlike most agents, I always put clients first. When it comes to negotiating, marketing homes, and sealing the deal, I've got the experience and knowledge you're looking for. If you have any questions about moving to VA, D.C., or MD, don't hesitate to reach out."