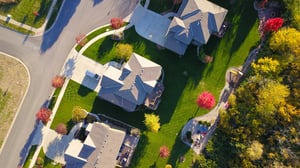 Our current COVID-19 pandemic has thrown a wrench in Washingtonians' financial plans. Of course, that includes plans on purchasing a new home. If you had planned on buying a home and now feel unsure of making this decision you are not alone. You will certainly need many questions answered before making one of the largest financial decisions of your life while in the midst of a global pandemic. Glass House Real Estate is here to help navigate you through the house buying process with answers to some of your most pressing questions.
Q: Is it a good financial idea to buy a house right now?
There are financial benefits to purchasing a home right now. Current mortgage rates are historically low and are showing no signs of change in the near future. What does that mean for you? Locking down a low-interest rate means your monthly payment will be lower resulting in peace of mind during this financially unsettling time. Despite our ever-evolving challenges, one thing that isn't changing is the high demand for homes in the DC metro area. Because the pandemic has deterred many prospective buyers from home shopping there is less competition between buyers. This could give buyers more negotiating power when dealing with motivated sellers.
Q: What does shopping for a home look like right now?
Employing new sanitization and social distance protocols, in-person house tours are allowed in the greater DC area. Keeping in mind that many sellers may prefer not hosting walkthroughs most agents in the Washington DC area are utilizing virtual consultations and tours in lieu of open houses.
Q: Can I buy a home if I have been furloughed?
With our country facing staggering unemployment rates many DC residents' plans of buying a home came to a crashing halt. However, just because you are unemployed doesn't necessarily mean you can't buy a home. If you have enough money to make an all-cash offer this may be a prime time to shop for a new home. An all-cash offer can easily give the buyer more purchasing power. Without the need for financing, many buyers put themselves in a position for stronger bargaining.
Q: What are the current closing times?
Unfortunately, current closing times are longer than pre-COVID closing times. Early 2020 saw closings of 30 to 40 days. However, with historically low-interest rates comes more paperwork for lenders. Shelter-in-place orders have also slowed down and complicated the home buying process resulting in longer closing times. Expect closing times to range anywhere from 45 to 60 days.
Q: Is it smart to buy an occupied house sight unseen?
It can be unnerving to purchase a home sight unseen. However, remember entering into an unfamiliar person's home with their belongings is a big risk at this time. As purchasing a home sight unseen is becoming a new norm, buyers are finding comfort in virtual tours, detailed photos, live video of the interior and exterior, and researching neighborhoods. Having your agent walk you through the property by-way-of video chat is an easy way to stay safe and feel secure in your purchase.
Although buying a home looks different today than it did just months ago you can still make it happen. Understandably, it may take some time to become comfortable with the process, but we are here to help you along the way.
Khalil El-Ghoul
"Thanks for reading! I'm passionate about empowering home buyers and sellers with professional advice and unbiased information, throughout the real estate transaction. Unlike most agents, I always put clients first. When it comes to negotiating, marketing homes, and sealing the deal, I've got the experience and knowledge you're looking for. If you have any questions about moving to VA, D.C., or MD, don't hesitate to reach out."