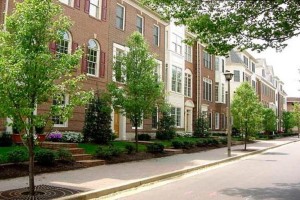 The Ballston neighborhood of Arlington is highly sought after by a young, hip demographic. They enjoy the lifestyle of this dynamic, thriving neighborhood that teems with restaurants, coffee shops, and social opportunities.
But, it's not all partying for these residents. In fact, of the 17,672 residents who call Ballston home, they are highly educated and hold down great paying careers. In fact, 45% of these young professionals hold Master's Degrees or higher and enjoy an annual salary of $123,194.
So, those who call Ballston home love to play hard, but they also don't mind rolling up their sleeves and working hard to get ahead, either!
5 Reasons Why You'll Want to Call Ballston Your New Home
Read on to see why young professionals flock to Ballston.
1 - Location matters
Location matters in the DC Metro area. Ballston sits in Arlington County, an area that's exploding with growth right now. Just west of the Clarendon community of Arlington, Ballston offers plenty of opportunities for access to work, rental housing for those just starting careers, and fitness. Plus, you can find everything else you need for a well-rounded lifestyle.
So, if you are purchasing a home in Ballston, your new investment is likely to retain its value in this desirable location.
2 – Balanced life and work
Many of the homes available in Ballston are apartments. Moreover, the homes for sale are primarily condominium or other multi-family units. This freedom from exterior projects and landscaping chores give residents the time that they desire and help them balance their career and daily life.
The up and coming professionals would rather grow their careers than herb gardens. And, that's not to knock them. Their work ethic affords them a comfortable income that enables them to live close to everything.
In Ballston, residents enjoy local cuisine, the many green spaces and parks for fitness, and visiting with friends after a long, hard day at work.
3 – Ballston Quarter
Ballston Quarter is a mixed-used development space that draws residents who want to enjoy the benefits of a live-work-play lifestyle.
Crafted out of the former Parkington Shopping Center, the mall now houses much more than upscale retail shopping and upscale dining. You'll also discover movie theaters, fitness centers, and even an ice skating rink.
Today, residents can lease an apartment in a luxurious 22-story high-rise adjacent to the original property. The property features a rooftop pool and lounging area, chef's kitchens, and other top-notch amenities.
And, the facility houses The Offices at Ballston Quarter. Those who want to forge their path in the business world can lease office space just steps away from their home. This development makes Ballston an area much coveted by entrepreneurs.
4 – Plus, great events
As if it's not enough that Ballston Quarter is quickly rising as an iconic and vibrant live-work-play space. Additionally, they host many events throughout the year.
You'll find movies and concert series, holiday programming, pet adopt-a-thons, and art classes going on almost continuously.
Check out the event schedule.
5 – Close by Metro access
For those who don't work in Arlington, the Metro is steps away. The Metro stop here is the Ballston/MU Station (Marymount University). It offers access to the orange and silver lines that take you into Washington, DC, for work or to soak up the cultural scene.
This metro station is near Ballston Quarter and a short walk from almost all points in the community. If you prefer to ride a bike to the Metro station, they do offer a limited number of bicycle racks. One drawback—this station doesn't provide a parking lot.
Trains run from approximately 5:19 am to 11:08 pm—check train schedules online first, as they are subject to change.
Living in Ballston
Ballston is a neighborhood that offers convenience and a diverse selection of activities to fill your downtime. Whether you love long runs in a green park, soaking in a movie, or experiencing new cuisine, you'll find something fun to do.
One caveat. If you want to purchase a home in Ballston, you a skilled real estate agent should be on your must-have list. The condos for sale here are limited, and they often sell in less than two weeks. Your agent can update you on available units so you can tour homes—before they are gone!
Khalil El-Ghoul
"Thanks for reading! I'm passionate about empowering home buyers and sellers with professional advice and unbiased information, throughout the real estate transaction. Unlike most agents, I always put clients first. When it comes to negotiating, marketing homes, and sealing the deal, I've got the experience and knowledge you're looking for. If you have any questions about moving to VA, D.C., or MD, don't hesitate to reach out."