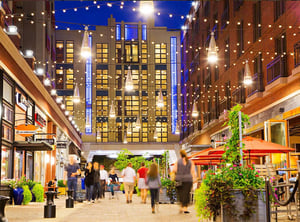 If you're looking for a house in one of the Northern Virginia suburbs that also comes with a distinctly urban flair, consider the area of East Falls Church.
Situated in Arlington County, this community features some of the best local schools, parks, a good inventory of available houses to purchase, and an incredible sense of community. Plus, you will find a Metro station—you can ditch your car to make the commute to Washington DC a little less of a headache each day.
Let's take a peek at all that East Falls Church has to offer you.
What Makes East Falls Church So Desirable?
Pride in the Community
Let's start off with a look at the pride in this community. While you might find a rental home or two in this area, the houses here are primarily inhabited by homeowners. Most homes are detached. However, some historic buildings have been converted into condominiums for those who prefer a maintenance-free lifestyle.
A tour of a home of two will reveal to you that the homes here are primarily well-established, with solid construction and mature landscaping. In fact, home construction here flourished in the 1950s and 60s at the beginning of DC's suburban sprawl.
But don't worry! The homes are well-kept and have been updated over the decades. You'll find many homes have modern aesthetics with charming mid-century details.
Homes are typically built close to one another, lending to the urban feeling. However, the neighbors are friendly and look out for each other.
Indeed, there's a strong sense of community pride. These homeowners decorate their homes for the season. Plus, most keep their small lawns and gardens well-tended and pretty.
This community pride makes the area a great place to invest!
Accessibility to Washington
Another reason that East Falls Church is such a coveted location is the proximity to public transportation. Residents here access the Metro Station on Sycamore Street and can ride the Silver or Orange lines.
The East Falls Church Metro station is the final above-ground Metro station as you head east into the city. And, you'll find a daily paid parking lot option adjacent to the Metro stop. That convenience is fantastic on those rainy days or for residents who live a bit too far to walk to the station.
Those who ride a bicycle to the station can lock up their bikes on a rack and pay for a locker to stow their biking gear.
Trains run daily from approximately 5:15 am to midnight, making it convenient to get home on those nights when you burn the midnight oil.
Nearby Shopping and Entertainment
While most homes are nestled into long-established neighborhoods, residents of East Falls Church still enjoy nearby access to fantastic shopping.
The neighborhoods might appear to be insulated, but nothing is more than a short drive away! You can hop on the road and find shopping, restaurants, entertainment, and movie theaters by heading into nearby Falls Church or Arlington.
So, whether you are heading out in search of groceries or to meet friends for an after-work snack, you have all the amenities you'd expect in an urban setting…just around the corner.
East Falls Church Schools
The East Falls Church neighborhood is a family-oriented population. The family values and involved parents make the schools here hard to beat!
Parents of young children flock to the area to enroll their children in the schools, including McKinley Elementary School. For older children, the schools focus on college prep, and graduates of the local schools are prepared for college, military, or workforce by the skills they gain here.
But, do you prefer a private school over public options? Many families come here to enroll their children at Bishop O'Connell High School. 90 percent of graduates from the program get accepted to four-year universities upon graduation—that's a tremendous statistic!
Home Buying in East Falls Church
Arlington County has so many beautiful communities for house hunting. If you want to live in a close-knit community with friendly neighbors but to preserve an urban vibe, then give close consideration to East Falls Church.
Because these homes are so desirable, it's a fast-paced market. Give us a call, and we'll help you find the home you want before it's sold!
Image Credit: http://www.fallschurchva.gov/
Khalil El-Ghoul
"Thanks for reading! I'm passionate about empowering home buyers and sellers with professional advice and unbiased information, throughout the real estate transaction. Unlike most agents, I always put clients first. When it comes to negotiating, marketing homes, and sealing the deal, I've got the experience and knowledge you're looking for. If you have any questions about moving to VA, D.C., or MD, don't hesitate to reach out."