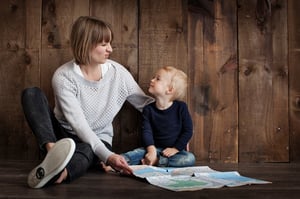 Had enough of the hot, muggy outdoor temperatures? The hot summer rages on, and there are still a couple of weeks before the kids go back to school. Here are some indoor activities in the Washington DC area to do with the kids. All from the comfort of the great indoors!
Head Downtown to the Smithsonian Museums
You probably know that you can head downtown and take in some museums. But did you know that that the Smithsonian Institution actually offers 13 museums in total? So, depending upon the ages of your kiddos, you probably have more options than you had believed.
Some of the family-friendliest favorites include:
National Air and Space Museum
National Museum of African American History and Culture
National Museum of Natural History
National Museum of the American Indian
You'll enrich their education and escape the heat. Remember, too, that there are no admission fees to these museums, making them super easy on your budget.
Fly Into the Sky
Need to find an outlet for all their wiggles and extra energy? Check out Sky Zone trampoline parks.
This indoor venue breaks your kids away from their iPhone screens and invites them to get active. They can freestyle jump on the trampolines or challenge themselves with warrior courses, wall climbing, or joining a game of dodgeball.
For your younger children, there's a foam pit and a toddler play area away from the more vigorous activities.
And for you, the parent who wants to sit back and enjoy a few moments of time to relax? There's the parent zone. Sit back and let the kids run wild; you can just enjoy the bliss of a short break while the children are otherwise engaged.
Sky Zone has locations in:
Sterling
Manassas
Springfield
Fredericksburg
Bowie
Columbia
Gaithersburg
The attractions mentioned vary slightly by location, so check out Sky Zone's website for specific activities before you head out to bounce.
Indoor Water Parks
Water and summertime go together like nobody's business. And we have access to some of the best indoor water parks around within a short drive of downtown. No worries about sunburn or heat rashes, let the kids enjoy water play from a climate-controlled environment.
Here are two of our favorites:
St. James Indoor Water Park - Springfield:
The St. James Indoor Water Park facility provides your family with 6,000 square foot of water features. Some amenities include:
Water "dump buckets" that will make them squeal in delight
Sprayers that will shower them from every direction
Sliding boards that they won't be able to get enough of
When it's time to come back out of the water, they can play on the obstacle course and enjoy an obstacle course. Ticket prices vary.
North Arundel Aquatic Center – Glen Burnie:
The North Arundel Aquatic Center is a little further out, but it's so worth the drive! The admission fee includes a two-hour pass, and you can't purchase in advance. Therefore, we recommend you arrive early, as it gets jam-packed.
Why is it so popular?
Because it's so awesome! Kids will enjoy:
A splash down area
Water "dump buckets" that they can't resist
A preschool sliding area for toddlers
And a large 134-foot sliding board
Don't worry, Mom and Dad; there's a parent area poolside, complete with a hot tub for you!
Rock Out at Jammin' Java
Surprised we're suggesting a rock concert? Don't worry. If you haven't heard about Jammin Java, it's a music venue specifically for kids.
Since 2001, kids have danced and wiggled to the sweet beats of professional musicians at this indoor music venue. And, let's admit it—parents enjoy the fun, too! The musical producers select music that will engage and entertain your entire family.
Ensure you get a seat for the performance of your choice by purchasing ahead online before you go.
There's No Shortage of Indoor Activities in DC for Kids!
Here in the DC Metro area, you'll find no shortage of indoor entertainment for kids of any age! These indoor, fun activities are just the tip of the iceberg. If you're new to the area, ask your co-workers and neighbors with children for their input—they will surely reveal some great additional ideas.
Are you interested, also, in some nearby day trips? Check out our post on staycations in the metro area.
Khalil El-Ghoul
"Thanks for reading! I'm passionate about empowering home buyers and sellers with professional advice and unbiased information, throughout the real estate transaction. Unlike most agents, I always put clients first. When it comes to negotiating, marketing homes, and sealing the deal, I've got the experience and knowledge you're looking for. If you have any questions about moving to VA, D.C., or MD, don't hesitate to reach out."