Just ten minutes from downtown Washington, nestled between Brentwood, Truxton Circle, and Bloomingdale Eckington is referred to by locals as DC's "quiet little secret." The neighborhood was developed in the early 20th century soon after a streetcar was extended into the area. A strong sense of community is apparent with several parks and play ground jam-packed with families. This neighborhood is becoming increasingly popular with young families and professionals.
Eckington, WASHINGTON DC Real Estate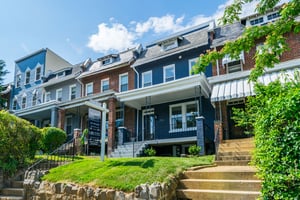 Eckington's older, sturdily built row homes painted in a welcoming array of pastels line the quaint streets of the neighborhood. The distinct character of the District shines through in its vibrantly colored Victorian and Greek Revival row houses. Although the neighborhood's cherished Victorian and Greek Revival homes give Eckington a historic vibe, homes also include many townhomes, condos, and apartments. These picturesque homes have made the long-serving residents very particular when it comes to any change in their neighborhood. Because of this, it is nearly impossible to build new homes in Eckington resulting in one of the most pleasant and most affordable neighborhoods in DC. The median price of an Eckington home is $684,945 according to Zillow, making it an exceptional value in the metro DC area.
Eckington Transportation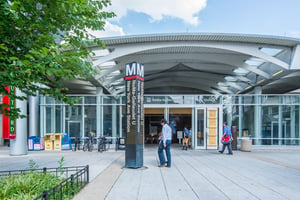 Metro buses run through Eckington and two metro stations on the Red Line serve the neighborhood as well: NoMa-Gallaudet U at the southeast corner and Rhode Island Avenue-Brentwood at the northeast corner. Interstate 395 launches two miles southwest of Eckington, leading to Virginia or DC Route 295 (Anacostia Freeway) via-695.
Highlights of LIVING IN Eckington
Crispus Attucks Park
Crispus Attucks Park adds to the beauty found in Eckington. Located on the boundary of Eckington and Bloomingdale, this hidden gem reflects the rich history of the area. The oasis of trees and flowers takes up a little over one acre, stretching a city block. Located in the alley complex behind the unit blocks of U and V Streets, the stretch of green grass is surrounded by brick row houses and is full of picnickers, dog walkers, and joggers. Because it is off the road free of any traffic, it is safer for children than many urban parks. It is common for neighborhood events to take place at "The Secret Park," as locals refer to it.
FreshFarm Farmer's Market
Situated at 1105 N. 1st Street North on Sundays from 9 a.m. to 1 p.m. FreshFarm Farmer's Market serves as a quintessential Sunday morning community gathering place where neighbors and friends meet to socialize while shopping locally for decades. FreshFarm promotes sustainable agriculture and improving food access in the northeast region. The nonprofit organization offers "Footprints Summer Camp At Home" where daily activities such as cooking classes for kids happens on Instagram Live.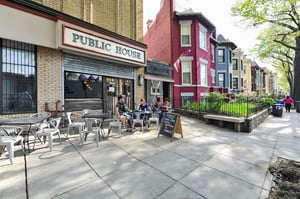 The almost exclusively residential neighborhood of Eckington provides terrific value, beautiful homes, clean parks, easy access to all of the Washington DC area, and a powerful sense of community.
With a population just under 4,000, Eckington's boundaries run from Washington's Metro Brentwood Yard on the east to Florida Avenue on the south, Rhode Island Avenue on the north to North Capitol Street on the west. The convenient location of Eckington adds to the desirability of the neighborhood.
Khalil El-Ghoul
"Thanks for reading! I'm passionate about empowering home buyers and sellers with professional advice and unbiased information, throughout the real estate transaction. Unlike most agents, I always put clients first. When it comes to negotiating, marketing homes, and sealing the deal, I've got the experience and knowledge you're looking for. If you have any questions about moving to VA, D.C., or MD, don't hesitate to reach out."