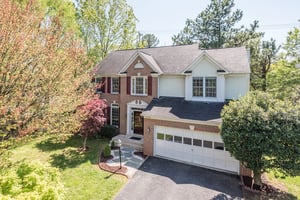 Spring is typically the time of year when listings in the DC Metro area increase. However, with the nation experiencing the current pandemic the market is facing unprecedented times. It is still uncertain what the market will look like in the next few months. What we can do is look at data and do our best to find a possible trend.
Under normal circumstances, April generally sees the DC listings increase around 10%. However, this April the number of listings saw a decline of 26.1% due to the stay-at-home orders in DC, Virginia, and Maryland. As the local market experienced a decline of homes it simultaneously witnessed the price of homes rise. In fact, the month of April brought the highest monthly median sale price the DC area has seen in a decade to $507,000. Chris Finnegan of Bright MLS recently stated, " The DC real estate market preserved this month." He went on to say that anyone interested in entering the market needs to be aware of the burst of new properties that will be listed once social distancing restrictions mitigate.
Home sales in Arlington and Fairfax counties saw a 20% decrease in sales compared to April of 2019. Listings were down 17.88% from last year, as well. Seeing these numbers can make those entering into the market uneasy. Keep in mind that everyone in the DC Metro area had spent early April in a shelter-in-place while they prepared for the worst. Even though these are unprecedented times it is common knowledge when fear strikes people rarely make important decisions such as buying or selling a home. It is not surprising that the COVID-19 pandemic put a hindrance on the real estate market. However, now that DC Metro area residents are aligning their lifestyle to the new norm buyers are returning and sellers are feeling more confident listing their property.
The norm for buying and selling homes has changed and people are adjusting well. The new norm is listing appointments over video conferencing like Zoom and offering live virtual open houses over apps like Facebook Live and Skype. Many sellers removed their listings at the beginning of April, leading to a lack of inventory. That lack of inventory plus lower interest rates creates competition among buyers, which in turn develops into a seller's market. Buyers need to be prepared with solid lender approval, and any cash buyers must have proof of funds.
Keep in mind that with the impact of COVID-19 most major regions nationwide saw a dramatic decline in sales and listings between March 31st and April 13th. The biggest decline was seen in cities hit hardest by the pandemic, such as Seattle, the New York Metro area, and the Washington DC metro area. However, according to a recent report the most dramatic bounce-back was seen in the Washington DC area, where listings under contract have recently climbed 149% from the early days of the COVID-19 panic.
Although the market forecast is uncertain, what we do know is that today's interest rates remain in line with all-time lows. In the DC area, we have seen buyers returning to the market and sellers listing again, offering some hope that Washington DC and the surrounding areas are curving back to a rich market.
Khalil El-Ghoul
"Thanks for reading! I'm passionate about empowering home buyers and sellers with professional advice and unbiased information, throughout the real estate transaction. Unlike most agents, I always put clients first. When it comes to negotiating, marketing homes, and sealing the deal, I've got the experience and knowledge you're looking for. If you have any questions about moving to VA, D.C., or MD, don't hesitate to reach out."