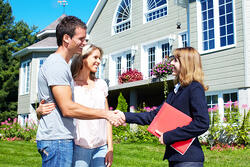 When home buyers search for an experienced real estate agent to help them in their search for the perfect house, some might bypass an agent who is offering a rebate.
But home buyer rebates often come with a myriad of positive opportunities. With a home buyer rebate, you'll still have a skilled real estate agent by your side to help you land the house of your dreams; you'll also end up with some cash to go toward the down payment (instead of in the broker's pocket) when the process is complete.
Why Home Buyer Rebates are not a Scam
If you choose to pursue a home buyer rebate, you can be assured they are legitimate. You'll receive the same level of service you would receive from an agent who doesn't offer rebates. The U.S. Department of Justice has positive things to say about home buyer rebates: "The Antitrust Division has found no evidence that refunds and incentives harm consumers," the agency states on its website. "On the contrary, they can dramatically lower the price that consumers pay for brokerage services."
If you're curious about how rebates work, you may be surprised to learn that the process is actually very simple. Typically, real estate agents representing the buyer receive a three percent commission (with the seller's agent also receiving three percent). The buyer's broker can offer to give the buyer one or two percent, or another specified portion, of his commission; this is the rebate.
For example, a buyer who purchases a home costing $300,000 could receive $3,000 in rebates at one percent and $6,000 at two percent. That's a good chunk of money that is a great benefit if you're a little short on cash up front to go toward the down payment.
If you're in the market to buy a house and want to find an agent who offers a rebate, you should:
Not already have an agreement in place with another agent.

Ask about relocating guidelines. If you're relocating as part of a company move, there might be special rules. Ask the buyer's agent what you will need to do in order to work with him or her.

Get a fee/rebate agreement in writing from your agent.

Make sure there is no fine print describing any broker administration fees or commissions.

Provide a letter when you get prequalified or preapproved from a lender. Detail the rebate and how it will be applied so the lender can figure that into how much they'll loan you and how much cash deposit you'll be able to provide.

Get a letter from your agent when you submit your loan application. The letter should include the dollar amount of the rebate you will receive, how it is usually applied, and other information, such as a copy of your commission rebate addendum to your buyer's agency agreement.
Shop around as you normally would for any real estate agent. Ask potential agents how long they've been in the business. Ask about their marketing methods. Ask how they'll be in communication with you throughout the process. Ask for the names and phone numbers of their three most recent clients. Ask those clients if they would work with the agent again and what his or her strengths are.
If you would like to learn more about the home buyer rebate and how you can earn a case back rebate feel free to get in touch with me today by clicking the link below. Why would you not want to get paid to buy a home! You can also learn more about the full rebate buying process by clicking HERE.
Khalil El-Ghoul
"Thanks for reading! I'm passionate about empowering home buyers and sellers with professional advice and unbiased information, throughout the real estate transaction. Unlike most agents, I always put clients first. When it comes to negotiating, marketing homes, and sealing the deal, I've got the experience and knowledge you're looking for. If you have any questions about moving to VA, D.C., or MD, don't hesitate to reach out."