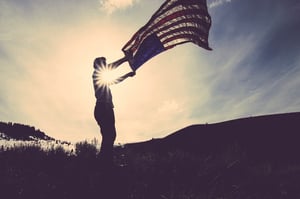 Having a roof over your head, a place to call your home, is an integral part of the American dream. But being a military home buyer can be complicated. It can even turn daunting if you are doing it for the first time. You not only deal with the emotions of finding the right home for your family but also keep your financial standing and several other factors in check.
Thankfully, the US Department of Veterans Affairs offers several programs that help veterans get funding, but the mortgage process in never foolproof.
If we look closely at the market, we can see that first-time homebuyers aren't the only ones who make mistakes. We learn by working with buyers that people who are buying their second home also experience pitfalls while dealing with lenders.
The DC area is home to over a dozen military bases. These bases accommodate thousands of service members who move in and out of the region each year. That's why most veterans and military home buyers look to buy home actively in the area. Therefore, it is essential that we giveaway certain pieces of advice that help with a smooth transaction.
Always Use a VA/Military Savvy Agent
This is the first advice you need to keep in mind. If you seek financial support from an institution, make sure to have a professional by your side. The VA loan system is different from the usual loans. The VA doesn't underwrite just any house.
There are specific property requirements you need to meet when buying through the Veterans Affairs department. Therefore, it is essential to have someone by your side who understands the system, i.e., appraisals, loan limits, and qualifications for a home loan.
Communicate with Your Lender
As a veteran, you have access to the most powerful mortgage option on the market. It is a sad reality that 33% of the military homebuyers don't know about the mortgage benefit they can avail. Therefore, it is vital to communicate with your lender and tell them about your service member status.
Did you know that you are entitled to a 0% down payment as a military personal? Yes! That's true. So, you no longer have to worry about saving up on the down payment. Moreover, most of the VA loans have a low-interest-rate mortgage and are lenient on the credit check.
Start Planning Your Move Early
If you are being stationed at DC, you have a lot to learn about the area. Find a map and start looking for potential neighborhoods in the metro area. Familiarizing yourself with major interstates is also crucial as you'll get to see I-95,295, and 395 often. Take notes of where the DC Metro area lies as compared to the roads and interstates. Also, look for places that have access to mass transit options.
Moreover, you don't have to live around your designated base. You can be stationed at one base and live closer to a different one. By doing so, you could get access to better schools and affordable housing options.
Think of it As An Investment
You might have second thoughts while buying your veteran of military home because there's always a chance that you might be relocated. But that doesn't mean that you should not buy right. Even if you do end up moving to another place, the house you purchase will benefit you through appreciation.
Consult with your real estate agent and purchase a property in the DC Metro Area that has solid potential for resale. Moreover, you could also rent your home and buy a new one when you move to another place. As a veteran, you can use your VA home loan benefits several times.
Don't Make Any Big Purchases Before Closing
Most homebuyers ignore the fact that they have to pay closing costs while signing the final documents. They get excited about moving to their new home and start preparing for the relocation. You might want to buy a big TV or bring in a new living room set. At this point, you control shopping impulse. Wait on making any large purchase until you become a homeowner.
Also, do not apply for any additional loans, credit cards, or other lines of credit. Otherwise, you might disqualify for the mortgage.
Veterans and Military Home Buyers
Getting a VA loan is more simplified than its traditional mortgage counterparts. Still, you must meet the lender requirements. Receive guidance from real estate agents and loan officers who can provide you the support you need as you make this significant investment.
Khalil El-Ghoul
"Thanks for reading! I'm passionate about empowering home buyers and sellers with professional advice and unbiased information, throughout the real estate transaction. Unlike most agents, I always put clients first. When it comes to negotiating, marketing homes, and sealing the deal, I've got the experience and knowledge you're looking for. If you have any questions about moving to VA, D.C., or MD, don't hesitate to reach out."