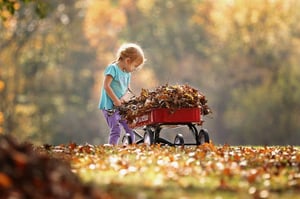 If you've recently arrived in Northern Virginia, you might be wondering what fall activities you'll find to do with the kiddos. Fortunately, the area offers an enormous number of family friendly fall harvest activities for the entire family to enjoy.
Northern Virginians love the fall season. The break between the muggy summer heat and the cold chill of winter is the ideal time to get outdoors and play. From pumpkin patches and corn mazes to apple picking and festivals, you'll find it all right here.
6 Family-Friendly Things to Do in Northern VA in the Fall
There's no shortage of fun in Virginia. Check out these events and attractions.
1 - Corn Maze in the Plains | The Plains
If thoughts of autumn make you think of corn mazes, pumpkins, and exploring the countryside, you'll love the Corn Maze in the Plains. Head out to the rolling landscape of Fauquier County, and you'll find a five-acre corn maze. It's child-friendly, and not too scary—at least during the day. Try one of their evening events for older kids or if you like to be spooked.
Other entertainment includes a farm store, hayrides, a hay bale maze, playground equipment, and pumpkin slingshots. On Sundays, you can shop at their Farmers Market from 10 to 3.
The season is from September 28th through November 3rd. Times may vary depending on the day, so check their website before you head over there.
2 - Fall for Fairfax KidsFest | Fairfax
Fall for Fairfax is the city's way of welcoming autumn and draws visitors from all over the Washington, DC region. From carnival rides to scarecrow building, pumpkin painting, and even a petting zoo, you'll find something to interest every member of your family.
Event dates: 10/5/19 from 10 am to 7 pm, and 10/6/19 from 10 am to 5 pm: free admission, but a fee for ride tickets and some activities.
3 - Fall Harvest Family Days | Mount Vernon
Mount Vernon rolls out the proverbial red carpet for visitors each year and hosts this event that provides entertainment and an immersive history lesson. Activities include riding the horse-drawn wagons, playing games from the Colonial Era, wandering through a maze. The kids might even get to meet General George Washington.
This year's event dates: 10/19/19 and 10/20/19 from 9-5. Festival included with the admission ticket.
4 - Temple Hall Farm Regional Park | Leesburg
Operated by the Northern Virginia Regional Park Authority, Temple Hall Farm Park transforms into an autumn wonderland each year.
There, your family can sling pumpkins, shoot corn cannons, dive into a house filled with corn, and wander through an enormous twenty-acre corn maze. Other scheduled events include live music and pig races.
They offer this event for six weeks, from September to November. We do suggest you purchase your tickets in advance online—that will guarantee entry on your date. It gets busy!
5 - Great Country Farms | Bluemont
Just a short drive away in Loudoun County, you'll find Great Country Farms. Here, you can pick your own apples and pumpkins. The kiddos can help, but they will probably be distracted by the farm animals, playground, wagon rides, and mini-golf.
The crops available are not only freshly picked and tasty, but they are also more affordable than grocery store prices! If you love making homemade fall treats like pumpkin pie or apple butter, this is a can't miss activity for your family.
Check their website for market prices and admission fees to the attractions.
6 - Lake Ridge Nursery | Woodbridge
Don't let the name fool you! You'll find much more than a nursery when you head out to Loudoun County and visit Lake Ridge Nursery.
In the fall, you can pick the perfect mums or shop in the marketplace for unique treasures. But, the kids will enjoy bounce houses, zip line riding, and a brand new obstacle course. You'll find plenty of variety for your entire family.
Their hours of operation change during this season, so check out their website before making the drive.
In a Nutshell…
You won't have any challenge finding fun things to do with the kids in Northern Virginia. And, if you've newly moved, you'll learn that fall is a special time. Get out there and explore. And, most importantly, have fun!