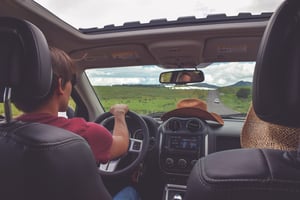 For those of you hoping to escape the hustle and bustle of DC and enjoy some quality family time, there is so much to see and do within just a couple of hours from the city. From white water rafting to hunting for beach treasures and getting a fun history lesson about our countryś first president, whatever fits your desires is all within two hours from DC.
Washington DC Area Day Trips
Harpers Ferry, West Virginia
Harpers Ferry, West Virginia, just 90 minutes outside our nationś capital, is a historic town in Jefferson County, West Virginia. With a small population of just under 300, this quaint village has much to offer when it comes to entertainment.
River Riders
If you are in the mood for exhilaration, a whitewater rafting trip in West Virginia is a must. River Riders offers both guided and self-guided (for the family of pros) trips along the Potomac and Shenandoah Rivers. Feeling a little more adventurous? River Riders offers tubing, ziplining, and an aerial adventure park. The Harpers Ferry Adventure Park includes 9 aerial forest challenge trails that vary from novice to expert. The park contains a total of 108 challenges and zip lines, including Kids Zip Line, tailored for children ages 4-6.
Harpers Ferry Ghost Tour
Prepare to be spooked! Harpers Ferry Ghost Tour offers a family-friendly scary story tour. The tales you will be told are based on the 1977 book, A Ghostly Tour of Harpers Ferry. In 1968 Shirley Doughtery, who didn't believe in ghosts at the time, opened up the popular Harpers Ferry Restaurant. Soon after the opening, Shirley and others began experiencing unexplainable ghostly phenomenons. Shirley began researching the history of her building. She began giving tours, educating guests on the history of the building and telling her eerie anecdotes. Today the tours are still going strong, but Shirley is no longer there to tell the tales herself.
Treehouse Camp at Maple Tree Campground
In the event you choose to spend the entire day at Harpers Ferry, take a load off and catch some z's at The Treehouse Camp at Maple Tree Campground. Backed up to the Appalachian Trail on South Mountain, twenty acres of incredible wooded campground offers the ultimate camping experience. Stay overnight in a tree cottage built on stilts 8 feet off the ground. Inside tree-campers are provided a table, chairs, mattresses, and a wood stove. A quaint little porch sets right outside the cottageś front door. Who wouldn't want to cozy up in a Hobbit House fashioned after the original hobbit hole of Middle Earth? This underground abode is beautifully decorated with wildflowers, a thatch covered porch, and solar fairy lights. You may also choose to camp in a Tree House that is enclosed and towers 7 feet in the air, minimally accommodating guests with bunks and a small deck. And for those families wanting a genuine camping experience, there are tent campsites provided; all are equipped with fire circles, picnic tables, and charcoal grills.
Solomons Island
Solomons Island is located at the mouth of the Patuxent River in Calvert County, Maryland a little over an hour away from Washington DC. This major boating center is a popular day-trip destination for Mid-Atlantic families.
Calvert Marine Museum
The Calvert Marine Museum is a terrific place to take the family. Each day the museum has something special scheduled for visitors. The Discovery Room has been referred to as a pint-sized paradise where young visitors search for real million-year-old fossils that children can take home after finding. At the Touch Tank guests are introduced to the unique critters residing in the Chesapeake Bay and the Atlantic Ocean. Kiddos can blow off a little steam while they climb the tower and dress up in costumes in a model of the Cove Point Lighthouse.
Ruddy Duck Adventures
No trip to Solomons Island is complete without visiting Ruddy Ducks Fossil & Shark Teeth Hunt. Families will search out ancient treasures on the beaches of the Chesapeake Bay. Guides teach the correct way to hunt for the ten to twenty million-year-old shark teeth including Lemon, Mako, and Snaggletooth Sharks. Kids will delight in the teeth and fossilized bones they take home. Take a break from your adventures at Ruddy Duck Brewery & Grill where you will find some of the best crab cakes in the Mid-Atlantic region.
Luray Caverns
Luray Caverns, just west of Luray, Virginia, located about two hours southwest of the capital city offers a unique day-trip experience. Start your day underground exploring the largest caverns in the eastern United States. Then, continue your journey as you attempt to escape the Garden Maze and experience a magnificent showcase of toys at Toy Town Junction.


Garden Maze at Luray Caverns
Experience the largest hedge maze in the region. Over 1500 eight-foot hedges create a world of enchantment. Through your journey of twists and turns, you will travel past hidden tunnels, a lookout tower, and glorious fountains. Entering the maze, guests are given a paper to have stamped at various locations throughout the maze. The goal is to collect as many stamps as possible and earn money off items in the gift shop. The maze is beautifully maintained and has just enough difficulty without causing frustration.
Toy Town Junction
Toy Town Junction releases the kid in everyone. In 1941, five-year-old Richard Wooden was presented with his first toy train by his parents. It was the Marx Cooper electric train from his motherś Montgomery Ward Christmas catalog. It is all he had wanted, but it was just after the Great Depression and times were difficult. His wonderful parents surprised young Richard with the toy he so yearned to have. Through his years, Richard built up an enormous train and toy collection. He wanted to share his immense collection with the public so they might experience the same joy his toys had given him. Luray Caverns has gladly exhibited this wondrous collection.
Mount Vernon
Mount Vernon, Virginia is located just 15 miles south of DC. Mount Vernon was the plantation of our first president George Washington and his wife Martha. The estate was designated a National Historic Landmark 1960. The mansion and the other 30 buildings are situated on 8,000 acres near the riverfront.
George Washington's Mount Vernon
Anyone interested in American History must experience the full day experience offered by the organization in charge of Mt. Vernon. You will be greeted by a fife player dressed in a red coat. Numerous volunteers are onsite to answer questions and point you in the right direction. Many tours are offered, but of course the mansion tour is the most popular. The tour only runs about 30 minutes and includes the room where the president died. The architecture is phenomenal considering what the original house was and the expansions that George made. There is plenty of room for the children to run around and plenty of farm animals to see. The museum and education center have short movies about the Washingtons that all ages will enjoy. In the visitor's center Adventure Guides are available; these are fun searches that the family can take part in around the estate. Explore the grounds, which include several buildings, beautiful views of the Potomac River, gift shops and various restaurants.
Living in DC gives you the option of many nearby day-trips. From learning our countryś history to white water rafting and visiting a Hobbit house, you will never lack for a day of family fun.
Khalil El-Ghoul
"Thanks for reading! I'm passionate about empowering home buyers and sellers with professional advice and unbiased information, throughout the real estate transaction. Unlike most agents, I always put clients first. When it comes to negotiating, marketing homes, and sealing the deal, I've got the experience and knowledge you're looking for. If you have any questions about moving to VA, D.C., or MD, don't hesitate to reach out."