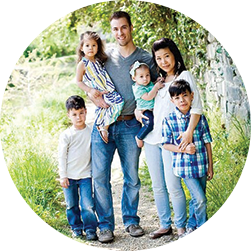 "I've worked with several Realtors and had not encountered one that I would recommend until I worked with Khalil. Khalil clearly has a wealth of experience working in a competitive real estate market. He was very professional, provided insightful guidance as we encountered various complexities, and went to great lengths to ensure that the process between our offers acceptance and settlement went smoothly…Khalil took the time to get to know what we were looking for…We have referred Khalil to family members who have also used him."
Challenges
Jon and Michelle were interested in seeing a home listed with Glass House Real Estate. They met Khalil at the home as prospective buyers and it quickly became clear that the home was not right for them. They told Khalil they wanted to represent themselves in a home purchase because of bad experiences with other agents in the past. They were pleasantly surprised when Khalil offered unsolicited advice and tips.
They decided to work with Glass House Real Estate as it turned out that most listing agents did not want to open doors for them on short notice and evenings.
Our Solution
Wrote an offer that was accepted before an Open House that would of almost certainly led to multiple offers.
Negotiated major concessions due to plumbing issues discovered at the home inspection and verified by a master plumber.
Gave lots of candy to their four kids while house hunting ;)