Awesome Agents
When you work with Glass House to buy a home in Arlington, Khalil El-Ghoul will be your agent. Khalil's core responsibility is to ensure you are getting the best deal and terms possible. With over 600 sales over the last 10 years, Khalil has the experience and knowledge home buyers need. While other agents focus on marketing themselves, Khalil focuses on negotiating for his clients. In 2016 alone, we rebated over $1.2 million in commission back to buyers!
Home Tours
We show you as many homes as you need to see in the Northern Virginia area. All you need is a pre-approval letter from a local lender and a list of homes you are interested in. Showing homes to clients without delay is critical to our success.
The Largest Realtor Rebate in the Industry
Earn up to 1.5% cash back for simply starting your search online. We offer one of the largest Realtor Rebates in the industry because our clients are savvy and make our jobs easier. No hidden fees or gimmicks (plus, the rebate is tax-free). We charge 1.5% or $5,000, whichever is higher, and the remaining commission goes back to the buyer.
Your professional negotiator for only 1.5% commission!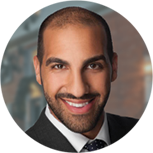 Khalil El-Ghoul is your trusted and locally experienced rebate realtor for Arlington!
Clients often contact Khalil because he offers a commission rebate, but they become clients because of his wealth of knowledge and experience. Khalil's passion is empowering home buyers and sellers throughout the real estate transaction with professional advice and unbiased information. If you'd like immediate assistance, contact Khalil directly at 571-235-4821 or fill out the form on this page and we'll get back to you as soon as possible!